NEXT CONCERT STAGE
AUGUST 19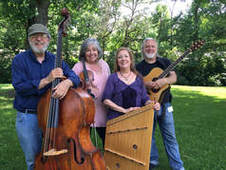 ​
TRILLIUM
Trillium is a dynamic acoustic music quartet whose eclectic repertoire ranges in style from Celtic, bluegrass, folk, ragtime, swing – even a hint of Gypsy jazz and a few Country tunes – representing the synthesis of the foursome's creative energy, and appealing to all ages and musical tastes.
All four members of Trillium are incredibly talented and seasoned musicians with
lengthy resumés of artistic accomplishments
under their
respective belts. Featuring Mim Eichmann on hammered dulcimer and vocals, Scott Sedlacek on guitar, banjo, and vocals, Doug Lofstrom on bass, and Louise Brodie on fiddle – "They're quite a lively band!" says Rich Warren of
The WFMT Midnight Special.
---
---
UPCOMING CONCERT STAGE
SEPTEMBER 16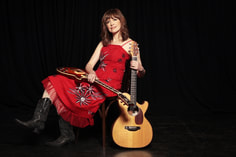 SARAH MCQUAID
Recently honored with a Lifetime Achievement Award by the Ards International Guitar Festival, Sarah also draws critical praise for her voice (which has been vari- ously likened to malt whiskey and melted chocolate) and her engaging rapport with audiences:
"...her subtle mastery onstage launches her straight into my fave shows ever,"
wrote The Huffington Post.
​
The Madrid-born, Chicago-raised, Cornwall-based singer/songwriter plays a bat- tery of instruments including piano, electric guitar and drum, and her latest album has drawn critical raves internationally: Dutch music magazine Heaven hailed it as
"an early contender for folk album of 2018."
---
---
UPCOMING CONCERT SCHEDULE

SEPTEMBER 30
KAT EGGLESTON

OCTOBER 21
BROOK WILLIAMS

NOVEMBER 18
BLIND SQUIRREL


OTHER MONTHLY EVENTS

​

SECOND SUNDAY OPEN STAGEFOURTH SUNDAY​SONG CIRCLEThe 2nd and 4th Sunday events happen quite consistently, but verify date in the monthly Newsletter just be sure.CHECK OUT EVENTS PAGE FOR MORE INFO >
---

​GET ALL THE CLUB NEWS ​